What I'm Doing
This website is intended to introduce to you the books I've written. Lately, I've been doing other kinds of writing on a daily basis. I'm constantly updating my blog about web design and technology called Web Teacher. I'm busy writing and curating information about technology in my role as Tech Section Editor at BlogHer.com. At Web Standards Sherpa, I'm the community manager. Web Standards Sherpa also publishes helpful information on Facebook. Finally, I continue to create writing prompts for writing practice at my blog First 50 Words.
If you live in central New Mexico, you can take a class from me at UNM Continuing Ed. I teach Dreamweaver, Accessibility, CSS, WordPress and other web related classes.
HTML Books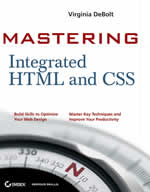 I write books about HTML, CSS, Dreamweaver and other topics related to web design and front end development.